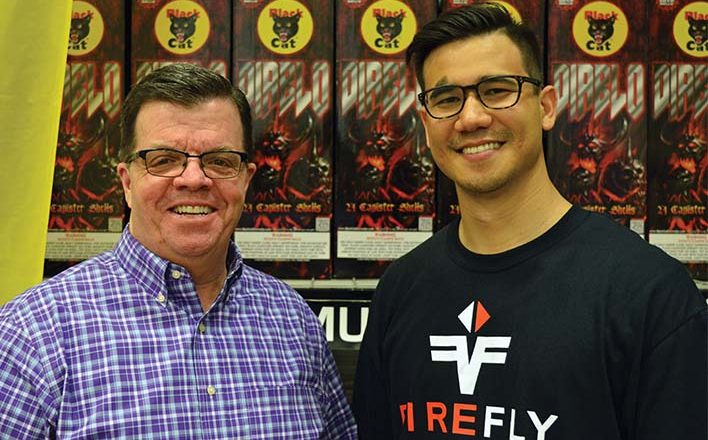 It started with a small 60-square-foot stand in the summer of '64 in Pittsburg, Kansas when John and David Collar thought selling fireworks would be more fun than mowing yards all summer long. After they each made nearly $250 that summer – they were hooked and never looked back. Each summer they went back to the stand determined to give customers good products at a fair price and more importantly, build trust in a customer that would return each year. By 1979, Winco Fireworks had grown enough that it was incorporated. They purchased their first "official" warehouse in Stanley, Kansas. That summer, the entire Collar clan pitched in to help fill orders, invoice customers, and make deliveries. That is a tradition that has carried lived on to this day. Winco Fireworks is a true family business and relies not only on family, but on employees that are like family to the Collars.
________________________________________________________________________________________
-Transcript-
Brad Burrow:
Welcome to In a World with Real Media. I'm your host, Brad Burrow. In this podcast, we'll dive into the lives of the most successful people in business. We'll learn how they overcame adversity, took advantage of opportunities, and learned from their experiences. Learn from our experts, get inspired, then go live your story. It's In a World with Real Media.
Brad Burrow:
Hello, and welcome to the In a World with Real Media podcast. I'm Brad Burrow, and I'm here with Mike Collar, president of Winco. Is it Winco Fireworks, or just Winco?
Mike Collar:
Winco Fireworks International.
Brad Burrow:
Okay. There you go, the official name. Mike, thanks for joining us. I've really been looking forward to having you on. What you do, that's got to be the dream job, man, being able to do fireworks and make fireworks, huh?
Mike Collar:
Well, it's fun, because we put a lot of smiles on people's faces, so that's what we like.
Brad Burrow:
One of the things I wanted to ask you, I've got a whole list of things that I want to go through with you, but what is it about fireworks that we love so much? I can remember as a kid, it's always something, you just love it.
Mike Collar:
Well, I think what's incredible about fireworks is that, obviously we think about them 365 days a year, but the general public really doesn't think about it until the 4th of July, typically, and sometimes at New Years, but it's just something so fun, because it gets to celebrate our independence, but it's fireworks, it's something you just can't go buy all the time. And kids enjoy it, the parents enjoy it, the grandparents enjoy it. And what's incredible about fireworks today over 25 years ago, is that the effects, and the variety, and the different types of fireworks are so much more than they were then. Back then, there was very limited SKUs, and now there's thousands of them. And so, you've got to give China credit. They've really done a great job in ingenuity and trying to come up with different ideas every year. They just don't rest on their laurels. There's always something new to look at.
Brad Burrow:
Is it technology? You see all the things… I've seen, obviously things now where they're exploding stars and different things like that. Is that happening through China? Are they figuring stuff like that out? How is that happening?
Mike Collar:
It's primarily all China. When it comes to consumer fireworks, China by far is the biggest supplier across the world. I would say it's an ancient Chinese secret, how they do it. But it's just incredible how they spend the time and come up new effects, and they get better at it. Their processes get better in how they make it, so the quality is even better. And frankly, we're spoiled, so we're insistent on it being great quality. And we go over there each year saying, "Okay, what's new? What's new?" And we go over there and look at it.
Brad Burrow:
So you travel to China to do that, huh?
Mike Collar:
I travel three to four times a year. Unfortunately, with the pandemic, I haven't been there since November of 2019.
Brad Burrow:
Is that right?
Mike Collar:
Right. Right. I'm getting the itch. I want to go, but they're just not letting you go yet.
Brad Burrow:
So, what does that look like? You travel over there, they're showing you new things that they've developed? Or how does that work?
Mike Collar:
Yeah. You go to China… Fireworks, once again, for consumer fireworks, are primarily made in two areas, it's the Hunan providence, and it's what they call the Guangxi province, better known as, people call it Beihai. That's where most of the fireworks are made for America. There's hundreds of factories over there. They treat us very well. We have people over there we work with, so they help us with the language barrier. But they treat us like kings, we get to go out and see product. We do a lot of homework before we go there and tell them things we want to see. And then they obviously always introduce something that we haven't seen. And a lot of this stuff over there, it's done around a lunch or dinner table, which are always round, and you just get a lot of stuff done at those tables. A lot of really good food, drink a couple beers once in a while, but it's a good time.
Brad Burrow:
And you'll go over there for a couple of weeks at a time, probably?
Mike Collar:
Yeah, a week to 10 days. Yes, I do. And a lot of people from America go over there, in the fireworks industry. And this one area called Luyang, China, it's kind of the mega capita of fireworks, I think they've got 4 or 5 million people, that's pretty small for China. There's really only two hotels that you'd even want to stay at.
Brad Burrow:
Is that right? Wow.
Mike Collar:
Yeah. So you're going to be over there and run into a lot of firework people from not only United States, but all over the world.
Brad Burrow:
Wow. That's just amazing. So, have you had some heartburn about what's been happening with us and China? That could change a lot of things from an importing standpoint, or… Just curious.
Mike Collar:
Yeah. We always worry about that. I think so much of that is political. They treat us very well. They want to sell us fireworks. They want to sell the things that… The biggest problem right now, frankly, is we are buying so much, not just firework, but commodities from China. February, they said, was the largest, by a long shot, how busy they were in LA, the port. There was so many containers-
Brad Burrow:
For importing.
Mike Collar:
For importing, yes. And literally every dock was full. And a ship holds anywhere from 2,000 to 8,000 containers, it holds a lot of containers. There was 40 containers parked out in the ocean that couldn't even get in. And so, the turnaround has been tough. We typically get a container, at least Shanghai, and it comes into Kansas City in 25 to 30 days. We're looking at 60 to 75 days right now. And so we're very, very nervous for the season, because some last minute things are coming from China and if they don't leave by the end of April, we don't know if we'll get them in time. And so, we know without a doubt this year there will be somewhat of a shortage. But when you see it from this end, of course you never see it on the news, but when you see it from this end, America is buying a lot of stuff from China. So all this other stuff you're hearing, I think, in my opinion, is a political deal, where… We're consuming all kinds of Chinese goods.
Brad Burrow:
Yeah. And that's not going to change, is it?
Mike Collar:
No, that's not going to change. What's been difficult for this year though, is the steamship companies, which are, some are based in Japan, some in Korea, all over, they see this happening. And our freight, for instance, has doubled since the last literally four or five months. It's completely crazy. And not just our freight, everybody's freight has doubled. So it's affecting a lot of product, and you're going to see it, unfortunately, on the price tag, on not just fireworks, but other commodities.
Brad Burrow:
So everything is going to be going up because of that.
Mike Collar:
Right. Right.
Brad Burrow:
So tell me a little bit about Winco. So, Pittsburgh, Kansas.
Mike Collar:
Yeah, my two brothers, when they were 16 and 18, their name is David and John, and David had a girlfriend and he bought the fireworks stand from his dad, and John helped him out with the money part. And it was a part-time business forever. We got two stands, they got three stands. But they went to high school, and then they were in college, and they both had other jobs, so it was a part-time business forever. And then, the way we got Winco is, my brother, David, had a fraternity brother named Rick Winders, both from Pitt State, went to school there, and Rick was from Kansas City, and they finally decided to move to the big city, Kansas City, which, one of our first locations was at 119th and Metcalf, which, there was nothing there back then. And so we decided to build a warehouse, finally, our first really true warehouse, we'd been working out of garages and barns, and they formed a company in 1979, Winders and Collar, and called it Winco.
Brad Burrow:
Okay. And then from that, you've really developed an incredible relationship with Black Cat. And that looks like, I was looking at the website, that's really developed over all this time.
Mike Collar:
Well, Black Cat became a really good partner of ours. Once again, my two brothers, I was, at that time, just getting out of college, but they had other jobs, and then David decided to go full time, then I went full time. And we were growing, but we needed some help. And Black Cat is owned by a company called Li & Fung, which is a very large company out of Hong Kong. And they came in and helped us find a good bank, find a line of credit, gave us credit. And we developed a relationship that we've had now for more than 25 years. And it really helped us grow our company. And frankly, we helped grow Black Cat. So it has been and still is a very good partnership.
Brad Burrow:
And what is that relationship today? Are you exclusive with them or something like that?
Mike Collar:
We're the exclusive distributor for Black Cat fireworks in the United States. And we also took over all the marketing and everything. So we basically handle every aspect of the fireworks in the US, for Black Cat.
Brad Burrow:
That's amazing.
Mike Collar:
Yeah, we're very excited. The brand has been around for almost 70 years. It's been around a long time. It's the oldest fireworks brand still alive. And so we're very proud to represent it in the United States for the… And it's the Fung family is who owns it, but we're very proud to do that.
Brad Burrow:
So you've probably built a really good relationship with the family. And for them to trust that with you, in the US, probably their biggest market, right? Well, I don't know about the commercial side, but on the residential side.
Mike Collar:
On the consumer side.
Brad Burrow:
Or consumer side, yeah.
Mike Collar:
They don't do commercial. They just do consumer.
Brad Burrow:
Oh, okay.
Mike Collar:
Yes, my brothers and I have a great relationship with the Fung family and the whole team over there. And it's been a good deal for us all overall.
Brad Burrow:
Yeah. So how did you transition into the role of president?
Mike Collar:
Well, I'm the little brother that my two brothers take advantage of all the time, that's why. But my two brothers are, John still comes to work every day and oversees some of our stores. David obviously oversees parts of it, but he lives in Florida. And it just made sense for me to take over the day-to-day operations. And it's not just me, it's a team. We have a great team at Winco, and so we've just been very successful and very lucky, frankly. But yeah, I just, basically, I got the short end of the straw and I had to be the president.
Brad Burrow:
That's funny.
Mike Collar:
I have to sign everything.
Brad Burrow:
Yeah. Well, I wanted to talk a little bit about the challenges of a fireworks business. There's got to be… It sounds glamorous and it sounds really awesome, but man, you're dealing with liability issues, all kinds of… And there's things that we wouldn't think about outside of your business that you have to deal with. Can you talk about some of those challenges?
Mike Collar:
Sure. The first thing is regulations, but what's amazing is that people think that less and less cities and states are allowing fireworks, and it's actually the opposite. The last several years through the American Pyrotechnics Association and some of the firework companies, we have actually opened up more states, opened up more cities, because we got a good story to tell. The consumption of fireworks in 2000 was 100 million pounds. In 2019, it was almost 250 million pounds.
Brad Burrow:
Almost tripled.
Mike Collar:
Almost tripled. But the total number of injuries is less in 2019 than it was in 2000. So it's an incredible story to tell. The American industry, through an organization which I've been really involved with, the American Fireworks Standards Laboratory, we actually hire a third party tester that tests all the fireworks, in China. Not all the fireworks, there wouldn't be anything left, but we sample batches before they ever get shipped to the United States to ensure a safer product for the consumer. So today's fireworks are not only brighter and better, they're much safer. The fuses are more consistent. The quality of the production and of the item is much, much better than it ever was. So together between the United States government and the US industry, as well as China, we've really got a pretty good story to town. And so it's easier to get states and cities to open up for consumer fireworks.
Brad Burrow:
Yeah. You see, we're in Overland Park, Kansas, and you see there's a lot of regulations. I don't even know if you can shoot off fireworks in Overland Park.
Mike Collar:
No, Overland Park is an area you can't. And they've got a lot of shake shingle roofs and some things, and it's somewhat understandable. I think it would be fun if they would do at least Safe and Sane, which is just the fountains and stuff, so you wouldn't have to worry about the roofs. And the truth of it is, we all know there's fireworks still shot and in Overland Park. But that's their decision and that's fine. There's plenty of other areas and suburbs that allow the fireworks in the Kansas City metro area.
Brad Burrow:
And I got to tell you, so last 4th of July, my parents and my family live down in Springfield, Missouri, Nixa, actually, which is south of Springfield. And then they're kind of out in a farming area. So we had all of our family together in this big area, and we spent three times more than we've ever spent on fireworks.
Mike Collar:
Thank you.
Brad Burrow:
You're welcome. But it was the best time. And that's one of the most memorable 4th of Julys that we've ever had. And we just had… It probably lasted an hour, the whole show, and we're all doing it together, and it was just… There's something American about that.
Mike Collar:
There truly is. And this year, in 2020, I should say, it was an incredibly challenging year, because China typically shuts down the production for what they call the Chinese New Year, which is typically January to early February. And so they shut down anywhere from two to four weeks. Well, as you all know-
Brad Burrow:
That's a big deal.
Mike Collar:
Oh, it's a real big deal, man. It's a prime time to be getting stuff made. But then as we all know, they had the COVID before any of us, and so they were shut down until almost the end of March. And then they had, really the last week of March, all of April to produce and get as much as they could shipped. Well, of course, we were all dealing with COVID, didn't even know if we were going to be open or not, and took some huge risks, and we just said, ship everything you can ship, and-
Brad Burrow:
That was in 2020.
Mike Collar:
This past year, this past season. And the consumer industry had the best year in our history. And not only did we have a great year, it was interesting, we talked to a lot of the customers, we found that so many customers hadn't bought fireworks for 20 years. And so they came in early to buy it so they could understand it. They actually read the instructions as they should. And I think, we haven't seen the stat sheet, I think we're going to see injuries, I'm sure they're going to be up a little bit, because the consumption is up so much, but overall it's going to be very, compared to past years, it's not going to be too bad at all. And so it's been great. Unfortunately, for the display, the public displays, they had the worst year of their lives, and this year is not going to be a whole lot better because there's no public displays.
Brad Burrow:
So let me ask you a question about the public displays. You don't have to be sitting next to somebody to watch a fireworks display.
Mike Collar:
It's a tragedy. It's a total tragedy that they can't figure out a way to do some of these fireworks for some of these communities. And some places are, don't get me wrong, but baseball games and all that, that aren't filling up, they're not going to be doing a lot of fireworks. So it's really, really hurt that industry, which is a big, big part of the fireworks industry overall. And so, our hearts are out to them, and we've been helping them try and get some government assistance and stuff. It's hard when you're talking to them on different boards that I'm on, and we're bragging about our year and they're sitting there going, they don't even know if they can… And they can't even make payroll. So it's a tough situation, but hopefully in the next year to two, that will come around a little bit, and more cities will allow fireworks to get people out and enjoy it.
Brad Burrow:
Yeah. What are some of the challenges that you guys have had? Obviously that's one of them with COVID and the pandemic, but as a business, I'd love to hear your thoughts from a small business standpoint, what challenges you've had.
Mike Collar:
Well, the fireworks industry is heavily regulated. We're regulated by the Consumer Product Safety Commission, Department of Transportation, of course, OSHA, not really consumer as much as the commercials, ATF, and then of course the cities, fire marshals and all that. And there's a lot of fire people that don't like fireworks. It's easier just not to have them, they think.
Brad Burrow:
That you're causing them, in their mind, a lot of headaches, potentially.
Mike Collar:
Right. Right. And really and truly, it's not as bad as they might think. Most of the injuries, or I shouldn't say most, a lot of injuries, and lot of the issues you see are with homemade fireworks or illegal fireworks. Our fireworks, they've got the proper label, and they've been made properly. So, we always deal with that part of it.
Mike Collar:
Weather is a huge deal. Weather is the single biggest thing that will hurt our industry. If it's dry, we don't even want you shooting fireworks, because it could cause a fire. And so we actually work with a company called Weather 2020, which is [crosstalk 00:16:30] Gary Lezak and Brett Anthony and others, and they give us forecasts across the whole United States. In 2012, 60% of the areas we wholesale fireworks to had a drought. So we sold a lot of fireworks, just didn't get paid till the next year, because they're not going to be able to sell them till the next year. And so, I just said, that will never happen again. And we work with these guys, and they tell us areas, "Hey, there might be a drought there" so that we can say, okay, instead of selling them a lot of fireworks now, where they can stockpile their warehouses, let's wait and see what happens. Is this rain going to come in, in early June? And we can ship them last minute. So it's really helped our company.
Mike Collar:
But fireworks is single-handedly the biggest thing that will affect our industry. And the other thing is, is the day of the week. If it falls on a Wednesday, we don't like Wednesdays in the fireworks industry, because typically you only get one day off, and you buy all your fireworks in one day and none of the stands or tents or superstores can handle all that business all at one day. So we like it when it's on a Sunday, like this year, where people are going to buy Thursday night, Friday, Saturday, Sunday. It makes it a lot easier. And frankly, people will shoot them more than just one day.
Brad Burrow:
Very interesting. Very interesting. So one of the things I've always wondered, my brother and I, he owns a small business in Springfield, a coffee company, believe it or not. And so we talk about, we go to the fireworks stand sometimes and we'll talk about, what does the business model look like for this thing? People are making a lot of money selling fireworks, aren't they?
Mike Collar:
They do, but it's two weeks out of the whole year. That's the problem. And there's so many things that could happen with the weather or regulations.
Brad Burrow:
It's a big risk.
Mike Collar:
And then you got to… A guy running a tent can make pretty good money and move on. But for our business, we pay lots of employees across the country year round. They've got benefits, we've got overhead, we've got warehouses, we've got interest, we've got shipping. Just our company alone, just think about, a container went from $9,500 into Kansas City to $18,000. We got to pay for that freight. There's no credit or [crosstalk 00:18:37].
Brad Burrow:
And that's just freight.
Mike Collar:
That's just freight on hundreds of containers. So, a lot of people don't understand what goes into that part. There's a lot of expenses to keep the company going year round and to keep this industry safe. So it's not as good as it might look on the front [crosstalk 00:18:52]
Brad Burrow:
Yeah, that makes sense. So you really have to be spot on, on budgeting and things like that to make that month or those two weeks, to get you through.
Mike Collar:
Yeah, just like any seasonal business, you better have your stuff together, and have it all organized because there's no tomorrow. You can't say, "Oh, I'll do better next week." Well, there is no next week, it's done.
Brad Burrow:
Did you have the ability to do that when you worked into the position of running this thing? Is that something you had to learn?
Mike Collar:
Oh, no, absolutely, I've run a stand, I've done it all. I ran my first fireworks stand when I was 14. So, no, you learn to get that. And a lot of people that we sell, in the fireworks industry, have other jobs, and so they can become procrastinators when it comes to fireworks. And then all of a sudden they're rushing around. We try as Winco to get these customers engaged early, to be thinking about fireworks. Do you have your tent rented? Do you have your lot rented? Do you have blah, blah, blah? And do you have your employees lined up? Or whatever, so that they're not chasing their tails, and they can actually have a good season and actually make more money, because they're not paying extra charges and stuff because they forgot to do something.
Brad Burrow:
Yeah. You pay more if it's late, don't you?
Mike Collar:
Right. Absolutely. Absolutely.
Brad Burrow:
Yeah. That makes a lot of sense. Well, I want to switch gears a little bit, so, I haven't told you this, but I used to work for the Chiefs on game day. I ran a camera for Sheldon, and I don't know if you know some of those guys, they're not there at Chiefs anymore.
Mike Collar:
No, I know Sheldon [Nookie 00:20:18], but I used to… So, not part of Winco, but, I'm not now, but I just let it go a couple years ago, but I was a licensed pyrotechnician and I did the very first pyro for a Monday night football game there, and did it for 23 years. So I know that stadium very well, and all those guys are great people.
Brad Burrow:
Yeah. So tell me a little bit about that process. We see these incredible pictures of fireworks going off all around the stadium, on the top of the dome or the [ram 00:20:47] and stuff. And you're timing all that up. I know there are times when I'm running a camera and we've got a military flight coming over and you're timing it up with, there's a lot going into that. Talk about that process. That's amazing.
Mike Collar:
Well, and like I said, it's not the consumer industry now, that's a complete different industry. And it's actually, there's three types of fireworks, there's a consumer, there's a commercial, and then there's what we call the close proximity. That's stuff that you see at Arrowhead Stadium, at concerts and things like that, that it's kind of between a consumer firework and a commercial firework, but it's very precise. Most of it is made in America, very, very precise, and it's all timed through computers. The company I represented when we were doing this, it wasn't me, it was a company I represented just because I had a relationship with the Chiefs, they are very well-trained. They use different computer systems. Everything is wired into a module.
Brad Burrow:
All throughout the stadium, it's all wired?
Mike Collar:
All throughout the stadium. We were fortunate enough to open the new stadium and we did 2000 some cues, where that's, a cues can be anywhere from one to, say, three shots, in less than two minutes. And it had to be right on cue. And when The Who song came, I forget the name of the song, but came on, and they play this one deal, it had to go off. And it did. And we were very happy. And it was cool. But it's a lot, a lot of work. That show took, I think it took, well, forget the planning ahead of time, but onsite, we were there three and a half days setting it up. It was crazy. Shot from five roofs. And we did shoot commercial stuff from outside as well. So it was quite the show. We worked with a guy named Rob Alberino. He went on to the 49ers.
Brad Burrow:
He's back now.
Mike Collar:
He's coming back. I'm friends with him. But yeah. And what a great guy, but I'm glad to see him back. And he did a lot of great things in San Francisco, but it's good to get him back in Kansas City.
Brad Burrow:
So, you would literally be wiring direct wire to every shot that went off?
Mike Collar:
Yeah, we call them squibs, igniters, whatever you want to call them, every single device has its own. Just think of a speaker wire almost, where you have a positive and negative. And you put that into a rail, and that rail goes in, it has a cable that goes into a module, or in a lot of cases now, they can do it even wirelessly. So it's even better. And they can do a lot more, because they don't have to run wires all over the place. But it's quite the production. And you're very, very nervous before it goes off.
Brad Burrow:
Oh, man, I can imagine.
Mike Collar:
But there's just nothing like it when it's done. You're just so excited. And these guys that do this truly for a living, it's just amazing what they can pull off now, and some of the things I've seen all over the world that are done by a lot of American companies.
Brad Burrow:
Yeah. Really amazing things.
Mike Collar:
It's incredible what they can do now. And when you get to that level, it's just completely crazy.
Brad Burrow:
So, my next question is the FireFly. So, really cool device. Tell us what that is a little bit, what our listeners… Explain what that is. And then did some of that innovation come from your experience doing things like the Chiefs?
Mike Collar:
Well, actually, it came from a guy, and his dad has been in the fireworks industry in Hong Kong for years. And he worked in the medical industry.
Brad Burrow:
Medical industry.
Mike Collar:
Yeah. Yeah. And he was flying one time, and he was trying to do something and he says, "Why am I doing this? It should be wireless." And he came up with this idea to be able to shoot fireworks from your phone. And he looked at multiple companies, and he chose our company to market it for him, and to obviously buy it and sell it. And it was a really neat item. We sold thousands of them the first year, where you literally Bluetooth to your phone and you could design your show. We could wire up to 15, in other words, 15 cues, like I was saying before. It had long wires, so you could really have a safer fireworks show, but also more fun. And it really worked out well. Technology changed a little bit on the Android phones and it hurt, you couldn't Bluetooth. Well, we've now got a whole new one out and it's all connected by wifi, so it's pretty much foolproof. It's going to work every time.
Mike Collar:
But it's somewhat like a big commercial display, only it's your own little backyard display. A lot of people use it for the finale. If you spend an hour, you can go ahead and shoot 15 items and go shoot another 15 items, and just rewire them up. You can reuse… The thing about commercial fireworks, the igniters is a one-time use. The igniters on these are clips, you can use them multiple, multiple times so that you don't have to get new ones every time. So literally you can shoot 15 items and go hook up another 15 items, shoot 15 more items, pretty easily, or buy two FireFlies.
Brad Burrow:
Yeah, there you go. There you go. And you can synchronize it to music?
Mike Collar:
Synchronize it to music. And sit back and not have to be up there with a punk, or a lighter, or a cigarette lighting it. You're literally pushing buttons and it's a pretty neat deal.
Brad Burrow:
That's one of the things about a fireworks display is, you got the punk, and it's dark, and you're down there trying to find it. And sometimes you hit it, sometimes you don't. Then you run off, and you didn't get it, and you got to come back. That's kind of the adrenaline of it, I-
Mike Collar:
Well absolutely it is. And it's-
Brad Burrow:
And this fixes all that.
Mike Collar:
It fixes all that. And it's very safe. People get a little scared of it, it's technology. And like I said, people think about fireworks one day a year, so to walk into one of our stores and now all of a sudden you're going to buy this thing and do it, it can be a little bit challenging. So we try to do a lot of promoting online and people actually buy the FireFly way before the season, so that they're prepared, so when they come buy the fireworks, they're already ready to go.
Brad Burrow:
You've mentioned several times the education aspect of fireworks. And I don't know that I've ever read the instructions on a firework before I set it off. But that's a big deal to you. Can you talk a little bit about the importance of that? And obviously on the FireFly, you're going to have to be educated on how the system works.
Mike Collar:
Well, yes, it's two different types. Obviously that's technology, so it's like anything, you're going to have to read the instructions and be prepared, don't go buy it that day and think you're going to shoot it that night. You need to really read it ahead of time. But as far as fireworks, the warning labels are right on the principal display panel. They're pretty common sense regulation. That's probably why some people don't don't read them. But it's important to see those, especially right now, the biggest is these reloadables, it's where you reload the shell and you light one and reload the shell. It's important to keep your head back. So the American Pyrotechnics Association, we have a foundation, an educational foundation, where we're actually working now to get more of that knowledge out, not just where you read it on the label, but you hear about it ahead of time through social media and stuff, so that people will practice safe shooting practices as they need to do.
Mike Collar:
But the number one thing is just be sober. That's the problem is that you're out there all drunk and shooting and you're going to get hurt. And people are doing stupid things like taking a mortar, these are powerful things, and they're putting the mortar on their head and shooting it.
Brad Burrow:
Oh my gosh.
Mike Collar:
And it's just-
Brad Burrow:
You've probably seen some crazy stuff.
Mike Collar:
Oh, it's crazy. And there's just no reason for it. Fireworks are so fun, and we're so lucky to get to shoot them, let's just shoot them the right way and enjoy it, so they're around here for hundreds of years. That's what I want.
Brad Burrow:
Now are you involved with some of these foundations? Are you-
Mike Collar:
Yes, the primary trade association is the APA, the American Pyrotechnics Association. I've been president of that four times. I'm on the board right now. We've been around 75 years, I believe it is. So it really gets out there, and it works with the government, works with industry, and promotes a safer practice of fireworks. And so it's been a great…. Helped the industry quite somewhat.
Mike Collar:
And then there's the American Fireworks Standards Laboratory, known as AFSL, that was formed by a bunch of APA members almost 30 years ago, because we found fireworks back then weren't very safe. And the government figured that out as well. And we said, we need to get our own testing, kind of like you would think of UL on all your electrical things. So we went over there and a group of guys did it all, and they did a heck of a job. And I think last year we tested, sampled 8 million cases of fireworks.
Brad Burrow:
Is that right?
Mike Collar:
Yes. So it's an amazing number. And we think that's had a lot to do with less injuries when it comes to consumer fireworks.
Brad Burrow:
So what are they finding? Something doesn't blow up correctly, or what is-
Mike Collar:
Well, there's a whole list, but one of the big things they look for is fuse burn time. They want consistent fuse burn time, so that not only you have plenty of time to get away, but it also, it can't go too fast, but it can't go too slow. If it goes too slow, you're apt to go back and check on it, and you don't want to do that. They look for stability. They make sure the item, like these big 500 grams don't blow out these canister shells. One of the things that we do is we shoot one upside down to make sure that the tube can sustain that, because people unfortunately may do that if they've been drinking, if they don't follow the instructions. They're only going to do it once, because it's going to scare them, then they're going really watch it. So we want to make sure that tube can withstand that so nobody can get hurt. So that's one of the things that we have to do.
Mike Collar:
And there's hundreds of things we look at, and it's by a third party tester in China, and they go to all the factories and test everything. And we really do think… Every single case has a sticker on it, and that sticker has a number that we can cross reference. And so if there is a problem, we can go back and look at that batch and say, okay, wait a second, what happened here? Because one of the things with fireworks that's kind of unique is that they pack a lot of fireworks wet. The powder is kind of wet when they pack it in China, and they sample it. Well, when it gets over here, it's dried out a little bit, which means it's going to work better. So you have to make sure that it's not going to work too good, where we're going to have a problem. So they look for all that when they're doing the testing.
Brad Burrow:
Wow. Who would have known? Why would it be wet? This is just the way the powder is put together?
Mike Collar:
Yeah, it's just easier to pack.
Brad Burrow:
Oh, they do it on purpose?
Mike Collar:
Yes, yes, yes, yes. And it's also different seasons over there, and there's also high humidity, and the tube might have moisture in it. And black powder is hydroscopic so it absorbs moisture already, but it will dry out eventually. So you just got to watch all that stuff when you're bringing it in.
Brad Burrow:
Now, did I read correctly, are you guys actually manufacturing fireworks here in the US?
Mike Collar:
We have a place in Clinton, Missouri called Zenith Specialties. We assemble some things, we don't mix any patterns anymore. We used to. Zenith was been around since '49 and we bought, my brothers bought it in 1985, I think. And we actually made helicopters, missiles, and things, and actually packed powder, and did it just like they did in China. Kind of wish, with these shortages we're having right now, we were still doing it, but it was just too hard to compete with China, frankly. So we just we've moved all that production over there, unfortunately. But we still bring components in and, you see the big tubes?
Brad Burrow:
Mm-hmm (affirmative).
Mike Collar:
Well, that big tube makes it, first, look better, but it also makes the item safer. Well, that costs a lot to ship that from China. So what we do is we bring in the guts of it, which is the pyrotechnic part, and then we assemble all that, put it on a bigger base, so it's a lot safer product, and we still sell thousands of cases of it that way. So it's still a good company, but it's nothing like what it used to be when we were really truly manufacturing.
Brad Burrow:
So are you doing all the printing of the labels and all that stuff too, as well, for those things?
Mike Collar:
Yes. Yes. We design and print all those labels.
Brad Burrow:
So you've got good relationships with printers around here too [crosstalk 00:32:04]
Mike Collar:
Well, yeah, actually we do. One of them for a long time was, we're all from Pittsburgh, Kansas, was Pittcraft Printing. And my brother owned part of that, that company sold out since then, but he owned half that company, so they were printing most of our labels.
Brad Burrow:
Oh, okay. I used to see their name a lot out at Chiefs.
Mike Collar:
Yes. Yes. They used to be the official printer of the Chiefs. Exactly right.
Brad Burrow:
Very interesting. It's all tied together, right?
Mike Collar:
It's all tied together. That's right.
Brad Burrow:
Well, I want to, getting close to wrapping up here, really thank you for your time.
Mike Collar:
Oh, I appreciate you.
Brad Burrow:
This is really awesome. Talk about the future. What does that look like for Winco? And I don't know if there's things you can talk about, but I'd love to hear, obviously you've got a challenging season that you're getting ready to go through because of supply, but what's it look like beyond that?
Mike Collar:
What we're trying to do is build up our inventory. It's not something you can build up overnight. It takes a long time. And so, we see the next few years of fireworks been very good, and we've, since last year, been chasing our tail, trying to get inventory. So our number one priority is to get more inventory over here earlier, as soon as we can possibly get it for the following year. So, I've already got, we placed orders in December for next year, and we anticipate they're going to start shipping some of that stuff literally in July. So that's a big part of what we want to do. Our company is, we're very fortunate. We've had employees with us for, some more than 30 years. But we're also hiring new people. So as a company, as we see people getting ready to retire, we have to get some new people in there that have to understand this business. But we also learn from the new people. It's a younger generation, so we try to learn from those-
Brad Burrow:
They think differently, don't they?
Mike Collar:
Boy, do they think differently. They do. Exactly. And that's really a lot of it. And we're just going to continue to try to make fireworks safer, try to get more areas opened up, and just make sure everybody is still having fun on the 4th of July.
Brad Burrow:
And when you say more areas opened up, like Overland Park, a place like that.
Mike Collar:
Yeah, Overland Park, that would be great. It would be a great area to open up. And like I said, I would recommend going with fountains, just try the fountains and the little ground spinners. No harm. They can't really hurt a lot, and so why not try to do that? So at least people that are wanting to be legal will shoot those items. If it's illegal, they're more apt to probably go ahead and shoot the big stuff. And so why not make it simpler where you can just shoot the fountains and everybody can enjoy fireworks in some way or some format.
Brad Burrow:
That seems like backwards thinking for a government though.
Mike Collar:
Well, it's tough. And Overland Park has got a lot, there's a lot of business, a lot of homes, and a lot of people, so I don't truly bad mouth what they're doing, they've made that decision, but I think that they might find if they would allow certain fireworks that it may eliminate the people shooting the full line fireworks.
Brad Burrow:
Have you ever gone before Congress or anything like that? Or, obviously you've probably been in front of government.
Mike Collar:
I've been through a lot of government agencies and for them, but no, typically, when we go to Congress or something, we have an executive director of both of our associations, and they are the voice of our association, so we keep a consistent message and we try to keep it neutral. So that's why we typically don't have members testify. We try to keep it limited to our executive director.
Brad Burrow:
Yeah. So, want to wrap up, but the last thing I wanted to talk about is I should be addressing you as Mr. Mayor.
Mike Collar:
Yeah.
Brad Burrow:
That's pretty awesome. So you just became the mayor of Lake Winnebago.
Mike Collar:
I live in a great community. Lake Winnebago is kind of the big, hidden secret in Kansas City. And we had the same mayor, who did a great job, for 19 years, and he finally retired. And I used to be the president of the HOA, which, so out there it's kind of unique, you've got the lake and you've got the city. So the HOA oversees all the lake, all that part of it. So I did that for eight years and then took a break from it.
Mike Collar:
And I was asked by several people to run for mayor. So I ran for mayor and was elected. And it's been fun. It's unique. When you're working with the city and you have to watch certain things you do, and public records, and run the meetings. I love running meetings, but it's been a learning curve. The past mayor left me with an incredible staff out there. So that part of it is pretty easy, but it's just listen to the residents and everybody has got their own agenda sometimes. And I truly have no agenda, I just want to communicate to the community.
Mike Collar:
And we did a lake expansion, which is rare, but we did a lake expansion, we worked on it for years, a developer had bought the land behind us and he developed it, and we actually built a brand new dam and spillway, and then tore out our existing dam to make one lake. And we're adding about 300 homes. So it's an incredible time to be at Lake Winnebago. We've got a bigger lake. We're seeing some really cool new homes go up, getting new neighbors, new friends. So I'm a very privileged to be the mayor, and I really enjoy it.
Brad Burrow:
Yeah. And the burning question is, can you shoot fireworks there?
Mike Collar:
We can shoot fireworks. Not all fireworks, but most fireworks, absolutely we can shoot fireworks. Of course. Of course.
Brad Burrow:
Well, that's awesome.
Mike Collar:
And that was done before I became mayor, so I didn't do that ahead of time.
Brad Burrow:
Well, that's awesome. Well, I really appreciate your time. Thanks for coming in. Any last words? There's a lot of small business people that will hear this as well. Anything, advice to a small businesses?
Mike Collar:
Well, I think a small business owner, you just got to go to work every day. You got to fight it hard, and you got to trust your employees and believe in your employees, and that's what we do. And realize they're going to make mistakes just like we're going to make mistakes, but don't… Let your employees expand as much as they can on their own. And to the consumer, shop early this year, because there is going to be limited supply of fireworks. We're trying to get through this whole COVID deal, so might as well shop early, be safer, but we just say, shop early, get your stuff, and that way you can shoot some of it before the 4th of July and then more of it on the 4th of July.
Brad Burrow:
Yeah. That's awesome. Well, Mike, I really appreciate your time. Thanks for joining us. And look forward to seeing more.
Mike Collar:
All right. Appreciate it. Thank you.
Brad Burrow:
Thank you.
Brad Burrow:
This has been In a World with Real Media. Thanks for joining us and be sure to subscribe on iTunes and follow Real Media on Facebook, Instagram, and LinkedIn, so you never miss an episode.